AD Artbox lite (Photoshop CS6)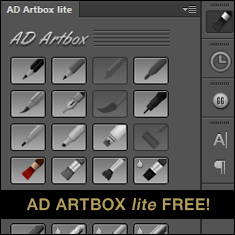 AD Artbox lite is the reduced and Free version of AD Artbox, a Photoshop CS6 Panel with more than sixty high quality tools for illustrators.
Designed for everyday work, each tool could be modified from the  "tool presets" window, this way you could, for example, add your favorite brush to the panel or change any of the tools included. Intuitive and easy to use!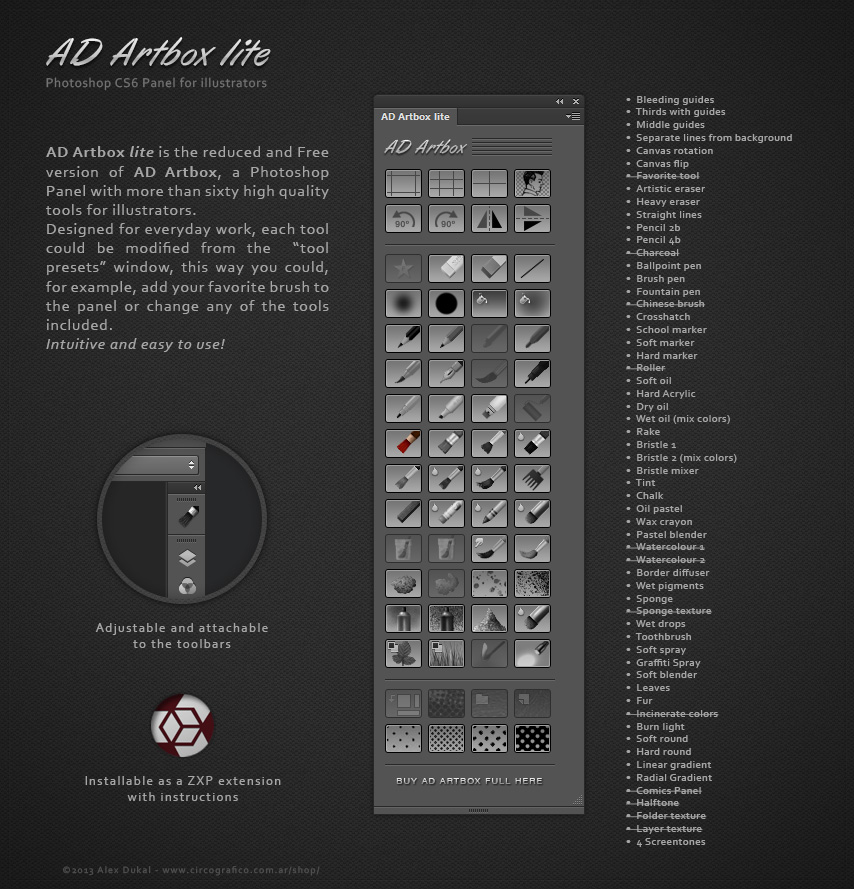 A 30 min. video demo to help you having an approximate idea about how AD Artbox works (accelerated version here: 30 min. in 2 min.):



Help and User Manual:
https://circografico.com.ar/shop/ad-artbox-help/


The download includes a .ZIP (approx. 24,8 Mb.) file containing:
the panel AD_Artbox_lite.zxp
(including a PDF User Manual, patterns, actions and tool presets)
a Read-Me.txt file with installation instructions
and a preview image.


This Panel was developed and tested with Adobe Photoshop® CS6 64 & 32 bits
Using Windows 7 with a Pc Intel Core I7 3770 @ 3.40Ghz + 8gb RAM
+ NVIDIA GeForce GT 620 and using a Wacom Intuos 4 tablet
also in a Mac Book Pro with OS X Mountain Lion versión 10.8
with 4 and 16 GB RAM.


NOTE: AD Artbox and AD Artbox lite have been intensively tested,
but are distributed without any warranty more than the willingness
to help whenever its possible and necessary. There are no refunds.
I highly recommend to TRY the AD Artbox lite before purchase the AD Artbox full version.


Updated 15/06/2013 16:15 PM