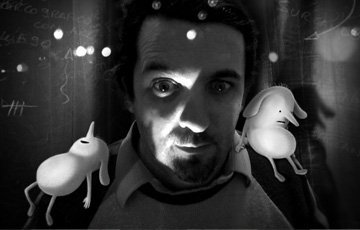 Quote from IdN:
Alex Dukal's enchanting and whimsical landscapes and creatures are painted to perfection; understated blue skies, enigmatic charming characters basking in soft sunlight make his illustrations dream-like and surreal.
Alex Dukal is an illustrator born and raised between the wastelands, wind and sand from Patagonia Argentina. He studied at the National School of Fine Arts "Manuel Belgrano" of Buenos Aires. From very young, Alex started to publish comics and illustrations in the legendary "Fierro" magazine.
Back in his hometown he spent some years dedicated to painting and teaching illustration and comics to young people. That all happened during the nineties.
Actually he works for publishers from all around the world, enjoying and illustrating with passion different kind of projects, mostly for children's books and design agencies.
Clients: Fallon (Agency – USA), Editorial Sudamericana (Argentina), Le Monde Diplomatique (Buenos Aires), Aya Dubai (Arab Emirates), Editorial Quipu (Argentina), Ediciones Pictus (Argentina), ISEN (Instituto del Servicio Exterior de la Nación – Argentina), Ministry of Education (Argentina), Ediciones Abran Cancha (Argentina), Editorial Puerto de Palos (MacMillan – Argentina), Ponieman-Murlender (Agency – Argentina), Ediciones SM (Puerto Rico), Norma Kapelusz (Argentina), MIX Comunicaciones (Agency, Argentina), La Comunidad (Agency – Argentina), Booth-Clibborn Editions (UK), Harper-Collins Publishers (USA)
---